Hampshire rivers closed for salmon fishing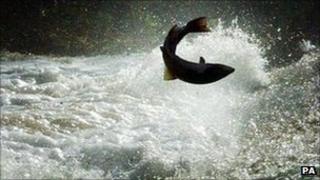 All Hampshire rivers have been closed for salmon fishing until next year to help protect the fish during their breeding season.
The Environment Agency (EA) said the annual closure season began on Sunday and lasts until 17 January 2012.
No salmon fishing is permitted and anyone found fishing illegally faces prosecution and a fine, it warned.
Paul Newman, from the authority, said: "All efforts are being made to protect these fragile populations of fish."
Mr Newman, fisheries technical officer for the Solent, added: "This year's close season means that for three-and-a-half months anglers will not be able to go salmon fishing in rivers.
"This necessary break on rivers such as the Test and Itchen will safeguard fish during their breeding season, resulting in increased fish stocks and better angling opportunities.
"Also, salmon are often targeted by poachers and we take this crime very seriously."
Anglers can continue to fly fish for brown trout and sea trout until 31 October.