Jury sees footage of Mark Nunes and Andrew Markland shootings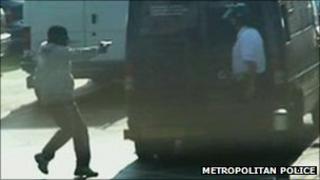 Footage of the moment two robbers were shot dead by police marksmen has been shown to an inquest jury.
Mark Nunes, 35, and Andrew Markland, 36, both from London, were shot as they held up a G4S van in Hampshire in 2007.
The inquest at Winchester Coroner's Court was shown police footage of Nunes being shot as he pointed a gun at the head of a security guard.
The coroner told jurors Markland then "appeared" to pick up the gun before being shot by another marksman.
Nunes and Markland were shot outside the HSBC bank in Chandler's Ford in September 2007.
Series of robberies
The families of the dead men wept as the police surveillance footage was shown at the hearing.
The Metropolitan Police had been at several locations in Hampshire after intelligence told them a gang would rob a van in the county.
Officers had been investigating a series of armed and unarmed robberies in London and the Home Counties.
An operation codenamed 'Hurlock' had identified Nunes as a suspect.
The covert surveillance footage shows Nunes get out of a Volvo estate car and walk towards the van as it made the delivery.
He was filmed pointing a handgun at the head of the guard before being shot dead by a police marksman, hidden at an observation post, opposite the bank.
Markland, who was waiting at a bus stop over the road, was seen to run over to the guard and Nunes.
Central Hampshire coroner Grahame Short told the jury that it would look at the "operational and tactical decisions that preceded those events" to consider how the men died.
Post-mortem examinations found Nunes died from a high-velocity gunshot wound to the chest which exited through the neck and Markland died from two separate high-velocity gunshot wounds to the chest.
The inquest is expected to take six weeks.