Inquest for ex-England mascot stabbed in Greece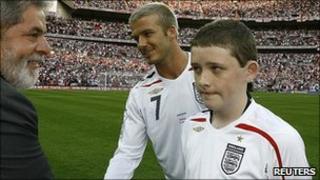 A teenager from Hampshire who was stabbed on holiday in Greece was unlawfully killed, an inquest in Basingstoke has heard.
Former England football mascot Robert Sebbage, 18, from Tadley, was on the island of Zakynthos with four friends.
North Hampshire coroner Andrew Bradley said that Mr Sebbage died from a single stab wound to the heart when a taxi driver "ran amok" with a flick knife.
A 21-year-old man has been charged with the murder of Mr Sebbage.
Another 25-year-old man, has been charged as an accomplice.
Mr Sebbage was on his first holiday abroad without his parents, at the Laganas resort, when he was attacked in the early hours of 13 July.
'Awful night'
He and his four college friends were involved in a melee in the street at the resort, which is also known as Zante.
All five suffered knife wounds. Mr Sebbage was killed and one of his friends was seriously injured.
Criticising the local emergency services, the coroner added: "It's right to note the response of the authorities and the inability of them to take it seriously is significant.
"Having said that, the nature of Robert's injuries were such that he was not going to recover."
In a statement his family said: "None of us can change what happened to Robert and his friends on that awful night in Zante, however we have to hang on to all the good times we shared together."
Mr Sebbage was the mascot for an England friendly with Brazil in 2007, walking out on to the Wembley pitch alongside David Beckham.
It was England's first match at the rebuilt stadium.
The Reading fan was battling a rare bowel condition at the time.
His funeral took place on 4 August at St Mary's Church in Basingstoke with his two brothers among those carrying his coffin into the service.