Totton schoolboys' mobility scooter level crossing rescue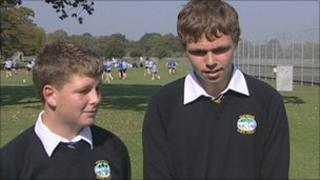 Two Hampshire schoolboys have been praised for rescuing an elderly man on a mobility scooter who was stuck on a level crossing.
The boys saw the man was trapped when barriers came down on the crossing as they walked home from school in Totton on 28 September.
Hayden Smith, 15, pushed up the barrier while Jay Handley, 15, helped the man and retrieved the scooter.
Jay said: "It was nothing big - anyone should help someone."
Jason Bull, a teacher at Testwood Sports College where the boys are both in year 11, saw the incident.
He said: "I was really proud.
"Kids don't have a reputation for helping out other people. They were amazing."
Man drove off
The level crossing was being monitored by CCTV and only when the line was seen to be clear was the train allowed to pass, although the boys were not aware of that at the time.
Network Rail and British Transport Police said they would discourage anyone from going on to the railway lines at level crossings when the barriers are down and warning lights showing.
The boys said the elderly man drove off on his scooter without saying anything after the train passed.
Insp Mick Morriss, based at Southampton British Transport Police station, said: "While we don't encourage people to access level crossings when barriers are down, in this case the boys were quick-thinking and clearly very public-spirited and they are to be congratulated.
"My officers and I are working hard with Network Rail and train operating companies to educate people about how to use level crossings correctly and safely - and the dangers that can be posed by misusing them.
"Level crossings are designed to keep people safe. And, when used correctly, that is exactly what they do."
A Network Rail spokesperson said: "While we praise the schoolboys for their willingness to help an elderly gentleman who they believed was in danger, we would never encourage anyone to put themselves at risk by going onto a level crossing when the lights are flashing and the barriers are down.
"Many level crossings, including the one at Totton, have a telephone which can be used in emergencies to contact the signaller directly, and we would recommend members of the public use this in these sorts of circumstances."