Families of D-Day Landing craft LCT 427 sought for memorial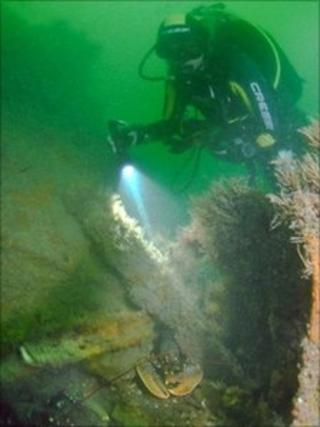 Divers who located the wreck of a World War II landing craft in the Solent are trying to trace the families of the servicemen who died on board.
Landing craft LCT 427 was returning to Portsmouth on 7 June 1944 after taking tanks to Gold beach in Normandy.
Just four miles from shore it collided with battleship HMS Rodney and was sliced in half. All 12 crew were lost.
The Southsea Sub-Aqua Club is trying to find relatives or comrades of those who died to attend a memorial service.
Alison Mayor, who led the diving team, said: "I just felt for the families who had never known exactly where the last resting place of the men was, it was important to have the opportunity to commemorate them."
'Very sad'
It is hoped the memorial service could take place later in the year.
Sub Lieutenant Frank Freeman, 20, from Nottingham was one of those who died in the tragedy.
After Ms Mayor appealed on BBC Radio Nottingham, the a son of one of Sub Lt Freeman's cousins, Richard Graine contacted the BBC to say he would be keen to attend a memorial.
He said: "I was always aware of pictures of Frank and that he died on D-Day, but that's all I knew. To think you are home safe and then this happens, it's very sad."
One 86-year-old navy veteran, Paul Butler, from Bledington, Chipping Norton, who also knew Sub Lt Freeman has already offered to read a passage from the Bible in memory of his former comrades.
The wreck was identified at a depth of 30m (100ft) during Southsea Sub-Aqua Club's recent diving survey and historical research in the Solent area.
The two pieces lay upright several hundred metres apart in the busy main shipping channel approaching Portsmouth and Southampton.
The area is normally out of bounds for diving, but the club was given special permission by Portsmouth Harbour Master.