E-fit issued after man raped along Southampton footpath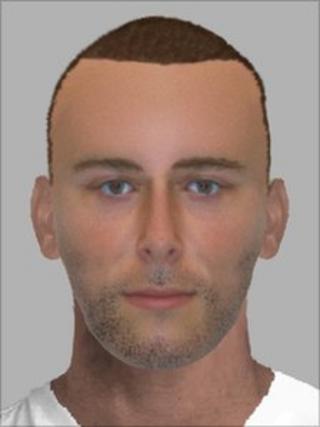 An e-fit image of a man suspected of raping another man in Southampton has been released by police.
The attack happened near the Clover Nook Flats, off Old Redbridge Road, shortly after 05:00 BST on Sunday.
A 22-year-old victim was walking along a footpath when he was approached by a stranger who raped him before running into the flats, police said.
The suspect is in his late 20s, about 5ft 9in tall with a very muscular build and his right arm covered in a tattoo.
Police said it was a distinctive "thick curved tribal tattoo", which extended from underneath the sleeve on his t-shirt to his wrist.
It has "curvy spikes linked together with hardly any skin showing" and is either dark blue or green in colour.
Acting Det Insp David Nealon said: "I'm hoping someone may recognise the man in the e-fit we have now composed with the victim.
"He says it's an extremely good likeness to the person who attacked him."
The attacker had short cropped dark brown hair which was shaved at the sides, thin lips, a narrow mouth, a very distinctive boned jaw line with high cheekbones, dark stubble with sideburns.
He wore a white t-shirt, blue jeans and white trainers.