Fraud probe after wedding shop closed without notice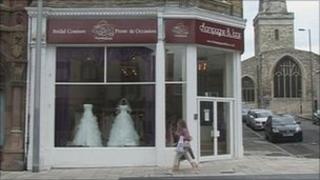 Fraud officers from Hampshire police have asked brides-to-be affected by the sudden closure of a Southampton wedding dress shop to contact them.
Champagne and Lace Bridal Lounge in the High Street closed without notice in July with some customers' weddings just weeks away.
Police said a fraud team was interested in speaking to people who have not received what they have paid for.
A spokesman said an investigation was launched after a complaint was made.
He said: "To get a full picture of what has happened here we need as many people affected as possible to get in touch with us.
"Once we have all our evidence it will be reviewed to decide if there has been an criminal dishonesty that we can prove in a court of law."
The BBC has tried to contact the Champagne and Lace shop but received no response.
A note on the door of the shop after it closed read: "For your information, it is with regret that Champagne & Lace Ltd has closed for business for the forseeable future. No further appointments will be available. We are genuinely sorry for any inconvenience this may cause."
It was the second bridal store on the site to have closed in as many years.
Rena Zhang Couture closed in 2010. It dissolved voluntarily and there was no police investigation into that closure.