Approval for Hamble college plans for 2012 Olympics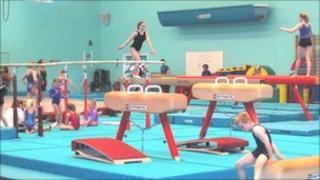 A Hampshire school sports hall is set to be extended to provide training facilities for Olympic gymnasts.
Eastleigh Borough Council has approved a £458,000 development at Hamble Community Sports College.
It will enable the school to host an Olympic team in the run up to the London 2012 Games.
The venue is home to the Dynamo School of Gymnastics and will be open to the local community when not used by the group or school students.
The two-storey extension will include a viewing gallery, extended vault run-off area and a tumbling area for pre-school children.
It was funded by a grant of £220,000 from British Gymnastics, with £157,000 from Eastleigh Borough Council.
The college and gymnastics school contributed £40,000 and £41,000 respectively.
Eastleigh Borough Council leader Keith House said: "We have been proud to work with Dynamo School of Gymnastics to create their centre of excellence for gymnastics at Hamble and are really enthusiastic to extend and expand the gym".
Work on the facility is due to start in November.