Leanne Turnbull missing: Police search pond and heathland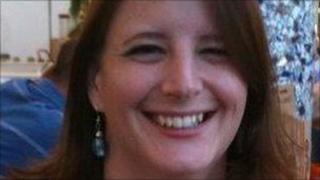 Detectives investigating the disappearance of a Hampshire woman who has been missing for three weeks have searched a pond and nearby heathland.
Leanne Turnbull, 34, was last seen at 1st Gear Cycles bike shop in Alton, in the morning of 14 September.
She has epilepsy and is not thought to have any medication with her, police have said.
An underwater search was carried out at Kings Pond and Hogmoor enclosure but nothing relating to her was found.
Mobile signal died
Last week officers were at three locations in the Alton area stopping people and handing out leaflets in a bid to jog their memories.
Miss Turnbull lives in Stubbs Road, Basingstoke, but had been staying at her partner's house in Orchard Lane, Alton, before going missing.
A trace from her mobile phone showed it heading towards the Devil's Punchbowl at Hindhead in Surrey, but the signal died on 15 September.
Det Con Iain Turner said: "Our enquiries to find Leanne are ongoing and we're doing everything we can to trace her and keep her family and loved ones updated.
"The searches we're conducting are based on our enquiries and information we get from the public.
"If you know anything about Leanne's whereabouts, or have spotted her since she went missing, it's vital you get in touch."