'Biggest strike yet' in Southampton council pay dispute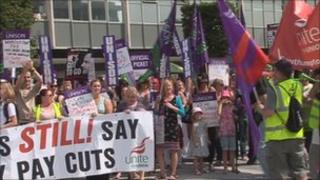 Southampton council workers, including refuse collectors and social care staff, have gone on strike again in a long-running row with the authority.
More than 1,000 Unite and Unison union members walked out for one day in an ongoing dispute over changes to pay and conditions.
New contracts forced council workers earning more than £17,500 to take a pay cut of up to 5.5%.
The City Council says the cuts are being made to protect jobs.
The strike marks three months since the council imposed the pay cuts in July. Unison claims some workers have seen their take home pay cut by up to 15%.
Parking wardens and street cleaners are also among those taking part in the strike, which the council said would see the largest number of staff striking at the same time since the start of the dispute.
More than 100 people attended a rally in Guildhall Square earlier.
Speaking from the picket line, Steve Chivers, a union member and street cleaner for the past 10 years in Southampton, said: "It breaks my heart.
"For all these years I've fought to improve the standards of the streets of Southampton and the council is going to take it all away from us.
"We took great pride in what we did cleaning the streets. It's going to all go backwards and the residents are going to see the impact."
'Social workers leaving'
A social worker, also on the picket line but who did not want to be named, said: "It's not fair on me to have my wages cut to that extent.
"We have lost so many experienced social workers and senior practitioners because of this condition that the council have put on us that we are now running on very few experienced social workers, morale inside that building is very, very low."
"There's no perks to this job, I am threatened by parents all the time.
"Last week I was so frightened when I was coming out of a tower block in Southampton, wondering whether the father was going to be there to attack us, that is a daily thing."
Royston Smith, leader of the Conservative-led council, said: "We have laid out very clearly what the challenges are for the city council and what the pressures are on our budget, but still they insist on striking to restore all terms and conditions.
"This simply cannot happen at this stage.
"We're going to have to see what we can do so services to the residents, the people that pay their wages, are restored to a full service and one that is at least adequate, if not exceptional."
The strike is the first since 12 weeks of industrial action over the summer.