HMS Alliance submarine set for £6.5m restoration work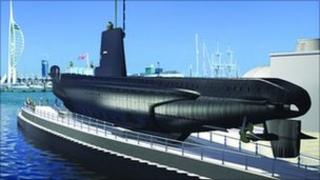 Work has started to save a historic World War II era submarine in Hampshire.
HMS Alliance, based at the Royal Navy Submarine Museum in Gosport, is set for a £6.5m makeover.
The vessel will be a memorial to 5,300 British submariners who gave their lives in service between 1904 and the present day.
The 1940s submarine, which is on display on the quayside outside the museum, had begun to fall into the sea.
'Severe corrosion'
The museum said it had been given £3.4m in lottery funding and the rest through funds and pledges. Efforts continue to meet a shortfall of £400,000.
Jason Lowe, Saving HMS Alliance Project Manager, said: "The first stage of works will involve constructing a permanent hard standing platform underneath Alliance.
"This will then allow access to conserve the 1940s' submarine's outer metal casing which has suffered from severe corrosion and also give visitors a whole new view of this important historic vessel."
The vessel, which has been at the museum since 1982, was in service for more than 25 years.
It is listed in the UK's historic ship's register, alongside the Cutty Sark, the Mary Rose, and HMS Victory.