Southampton council apologises over blackberry-picking ban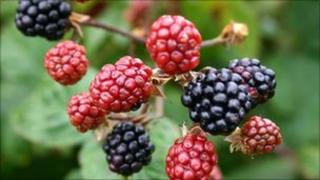 A foraging group banned from picking blackberries on Southampton Common has been told it was a "mistake".
Organiser Alan Gibson, 48, who planned a foraging picnic on the common had described the prohibition as "ridiculous".
Staff at the Hawthorns Wildlife Centre had said it was in place because the common is a Site of Special Scientific Interest.
Southampton City Council has apologised for the error.
Mr Gibson, who writes about searching for wild food, said he was also told he could not pick hazelnuts, apples or chestnuts, because the common is home to endangered great crested newts and he would be damaging their environment.
'Educating children'
He said: "We're just a group of families who go fruit-picking with our children to teach them about the environment, and show them where food comes from.
"I thought the ban was ridiculous.
"I never assumed it was actually the case, but I did wonder whether there was some sort of underlying legislation prohibiting foraging on the common.
"Thankfully, that isn't the case and the staff at the centre have now apologised."
Councillor Peter Bailey, who is responsible for open spaces, said: "There is a big difference between people picking blackberries, nuts, berries and conkers - that's no problem at all, there's no law against it.
"There is a different issue with digging up bulbs, making damage to trees, digging up plants, that sort of thing."
He added that a foraging picnic, like the one which Mr Gibson had planned, which was not going to cause any damage to the common, was "absolutely fine".