Hayling Island residents' relief over sea wall rebuild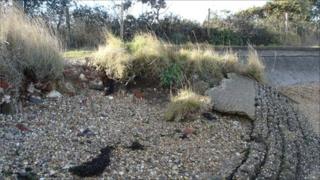 People living near an eroded sea wall in Hampshire have welcomed the start of its long-awaited reconstruction.
The £350,000 Environment Agency project will bolster the wall with limestone rock along a stretch of Hayling Island coast in Selsmore.
David Gall, from the Marine Walk Residents' Association, said: "The sea wall has been in decline for a number of years so this is good news."
Work is expected to be completed by the beginning of December.
Mr Gall said residents had been "concerned" for years about the dilapidated wall, which is up against a clay and chalk bank.
He added: "We're only a few hundred yards from the sea, so should we get the wrong tide and the wrong wind at a particular time we are at risk of being flooded."
Residents had sent letters to the Environment Agency for years prior to this project starting.
Agency spokesman Ian Tripp said: "Climate change will increase the risk of flooding in the future, but we can prepare for it."
The finished structure will be an average of 11ft (3.5m) high.