Bentley swan 'hit and run' driver sought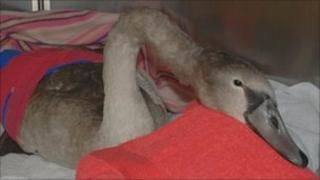 The driver of a car which hit a swan on a busy road in Hampshire and left it lying in a ditch is being sought by police.
The incident, involving a silver vehicle, happened on the A31 from Farnham to Alton, near The Bull Inn at Bentley, on 4 October.
The injured swan, which suffered a broken wing, was picked up by HART Wildlife Rescue of Medstead.
Hampshire Police said the swan was unlikely to be able to fly again.
Following emergency treatment at Cedar Veterinary Group in Alton, it is now recovering at The Swan Sanctuary in Shepperton.
It is an offence under the Wildlife and Countryside Act 1981 to deliberately try to kill a swan.
PC Stacy Beale, wildlife crime officer, said: "It is possible that this was an unavoidable collision.
"However, as a responsible driver you should stop your vehicle following an impact to check it for damage and ensure that you have not left an animal suffering in a position where it could potentially cause a further collision."