Haslar immigration centre 'improving'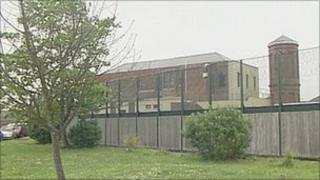 A Hampshire immigration removal centre has made "significant progress" since a damning report in 2009, the chief inspector of prisons has said.
A recent surprise inspection showed the environment at Haslar was much-improved after a refurbishment program.
But recommendations on handling casework were not implemented and procedures to safeguard vulnerable detainees were "not robust".
The UK Border Agency (UKBA) said it was looking at ways to speed up cases.
Two years ago, a report by the chief inspector of prisons said the facility, which can house up to 160 men, had some of the worst accommodation in the immigration estate due to a lack of investment.
'Continued failings'
But this had now been largely addressed through investment, the latest report said.
Nick Hardwick, chief inspector of prisons, said: "This report describes some significant progress since the last inspection.
"However, we were concerned that there had been minimal progress on our recommendations regarding immigration casework and we expect the UKBA to address these continued failings."
The report did raise concerns about the way vulnerable detainees were treated, with one case of a child being mistaken for an adult.
But the inspection also found that detainees generally reported feeling safe, the education department provided an excellent resource and a dedicated welfare officer was a much-valued assistance.
Alan Kittle, from the UK Border Agency, said: "Haslar has come an awful long way since the inspection in 2009.
"We acknowledge that there are sometimes delays in the way in which we can progress cases, but I should make it clear that in the majority of cases detainees themselves are the cause of delay.
"We will consider the comments very carefully... so we can find more innovative ways so we can conclude these cases more quickly."