Hampshire's John Lindsay in solo power boat adventure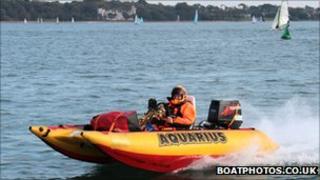 A power boat fanatic from Hampshire has travelled around the coastline of the British Isles and northern France to raise money for cancer charities.
John Lindsay returned to Southampton at about 14:00 BST, having travelled for hundreds of miles in an inflatable Thundercat catamaran.
Mr Lindsay completed his journey without a safety boat or co-pilot.
He said: "I'm relieved. People said it couldn't be done - I've proved them wrong."
During his 10-day journey he was guided by dolphins through the Bristol Channel in thick fog.
Ten nations
Friend and fellow power boat enthusiast Fiona Pascoe said: "He has crossed the Irish Sea twice and the English Channel.
"Travelling in a Thundercat is like being on a blow up lilo. They flip upside down all the time.
"None of us can believe he's actually done it."
Mr Lindsay had called his adventure One Life 10 Nations as it has involved travelling to Northern Ireland, Republic of Ireland, Wales, Cornwall, Guernsey, Jersey, Herm, Alderney and France before finishing in England.
Mr Lindsay was inspired to take on his challenge after his father was diagnosed with cancer.
He said: "I finally would like to do this achievement whilst my father is alive and to raise as much-needed money for two cancer charities: Macmillan Cancer Support and Everyman."