'Opportunities fair' held for Portsmouth children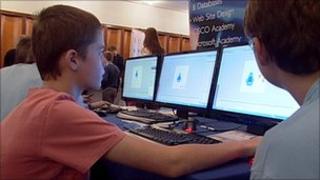 A job and careers fair aimed at 10 to 13-year olds is being held in Portsmouth.
The "Opportunities Fair" has been organised by Portsmouth City Council, with local education bodies, businesses and role models offering advice.
About 2,000 children and their parents are expected to attend.
Organisers said it would "help them envisage an exciting career and to understand that there are many pathways to achieving their goals".
The event is part of a strategy to improve low educational attainment levels in the city by inspiring children before they reach their GCSEs.