Winchester cancer waiting list man 'failed'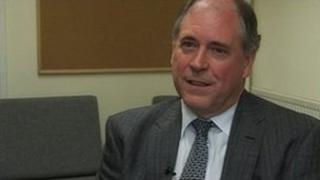 A man with aggressive prostate cancer says the NHS has failed him by making him wait five months for surgery.
Gary Akehurst, 60, from Winchester, needs potentially life-saving treatment to remove the prostate before the cancer spreads.
He said: "If only one or two cancer cells penetrate the prostate into the surrounding tissues then I've had it."
The trust at the University Hospital Southampton said heavy demand meant it was hiring more consultants.
Jim Davies, chairman of the Prostate Cancer Support Organisation's Dorset branch, said the waiting times had become typical in the region.
He added: "I'm on a helpline and I get lots of phone calls from different men thinking they're the only men being treated this way.
"A picture starts to emerge and it's much more common than one realises."
'Reticent and reluctant'
Mr Akehurst first saw his Winchester GP in May.
He said cancer was not suspected which meant he was not referred to a specialist within a recommended two-week window.
Instead he saw a consultant two months later and had a biopsy at the end of July.
He was eventually put forward for surgery in Southampton in September, but the hospital is only carrying out the necessary operations once a week. Mr Akehurst is eighth on the waiting list.
He said: "People have been reticent and reluctant, particularly to talk about when [the operation will take place] and that I find disturbing.
"I've been working since 1969, I've paid my taxes and I've tried to be a good citizen, and this is the very first time that I've gone to the NHS with something major.
"I think because the NHS is our NHS, the people's NHS, you expect a bit better."
University Hospital Southampton NHS Foundation Trust said: "We are currently experiencing heavy demand on our urological cancer service and have to prioritise cases based on clinical need, but we do understand it is distressing for any patient awaiting surgery and urge Mr Akehurst to contact us via our patient advice and liaison service so we can discuss his concerns directly.
"We are taking steps to manage the increase in activity levels and are in the process of recruiting two additional consultants to provide extra capacity for all surgical procedures within urology."
Winchester and Eastleigh Healthcare NHS Trust said it was satisfied Mr Akehurst had received care in "an appropriately timely manner".
It added: "Following a routine referral from his GP Mr Akehurst was given an appointment within the timeframe set out by the Department of Health and subsequent consultations and procedures were carried out as quickly as possible given that both patient and consultant were on holiday in the interim."
The NHS says 10,000 men die from prostate cancer every year in the UK. It says that prostate cancer can usually be cured if it is treated in its early stages.
It says: "If the cancer spreads from the prostate to other parts of the body (metastasis), typically the bones, it cannot be cured and treatment is focused on prolonging life and relieving symptoms."