Princess Anne opens Southampton's new £30m police HQ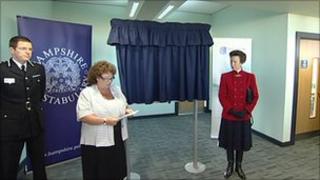 The Princess Royal has officially opened Southampton's new £30m purpose-built police headquarters.
The force moved into the site in Southern Road in March when the old Southampton Central police station in the Civic Centre was shut.
The building, funded by Hampshire Police Authority, took 18 months to finish and has 36 custody cells.
The princess also watched a demonstration by a team of crime scene investigators as part of her visit.
'Different economic climate'
The force has recently announced major job cuts but said work had already began on the project when there was "a very different economic climate".
Hampshire Police Authority said the eight-storey building would increase police efficiency and reduce costs by combining a wider range of operations in one location.
Some partner agencies, such as Hampshire Probation Service, also have teams based at the building.
The former custody centre at the Civic Centre has been decommissioned and handed back to the city council.
The Southampton Central station had been based at the Civic Centre since 1933.