Portsmouth v Southampton derby fans face 'coach bubble'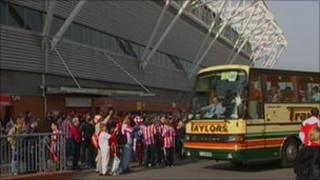 Southampton football fans attending the derby match in Portsmouth in December will have to travel by coach, police have said.
The "coach bubble" tactic involves away fans having to buy joint match and coach tickets, and being escorted by police to a secure area in Portsmouth.
Hampshire Police said it was to avoid contact between the two sets of fans.
Twelve people were jailed following violence in Southampton when the teams last met in February 2010.
The Championship match on 18 December will be the first time Hampshire police have employed the "coach bubble" tactic.
The same procedure will be repeated at the reverse fixture at Southampton's St Mary's stadium next year.
About 60 alcohol-free coaches will leave for Fratton Park in Portsmouth from three pick-up points - St Mary's stadium, Winchester and Bursledon.
Supt Richard Burrows said: "It's about balancing the enjoyment of football fans and the rights of others not to be subjected to violence."
Portsmouth fans are being asked to get to Fratton Park early as there will be some restrictions to cope with the arrival of the Southampton coaches.
Portsmouth FC's head of operations, Derek Stone, said: "The message is to enjoy the event and follow what is happening on rather than off the field of play."