Cunard announces it will drop the British flag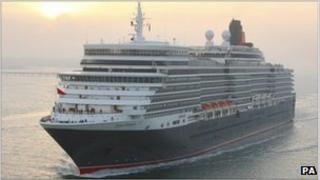 Luxury cruise company Cunard has announced its ships will stop sailing under the British flag.
The company said it was being done to allow weddings to be held on board as ships registered in the UK cannot conduct marriages.
The company's three ships Queen Mary 2, Queen Victoria and Queen Elizabeth will instead fly the flag of Bermuda.
The port of Hamilton will also replace the name of Southampton on the stern from next spring.
'No difference'
Weddings performed by captains at sea under current English law are not legal because the law states that marriages must be held in a publicly accessible place.
Sailing under foreign flags or "flags of convenience", as they are known also allows shipping companies to employ crew members who operate under different working practices, at cheaper rates.
Peter Shanks, Cunard president, said: "There are some differences with regards where you flag your ship.
"But we pride ourselves on how we look after every member of our crew."
Mr Shanks also said the move would make "no difference" in the "many millions of pounds" the ships generate for Southampton.