Navy unveils cutting-edge warfare training system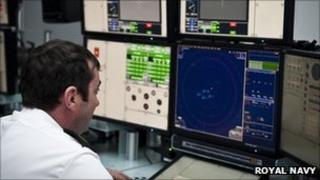 A new £108m simulated training system has been unveiled at the Royal Navy's base in Fareham, Hampshire.
The Maritime Composite Training System (MCTS) is made up of banks of LCD screens which replicate equipment used at sea.
It is split across two training sites, at HMS Collingwood in Fareham, Hampshire, and at Devonport in Plymouth, Devon.
About 1,000 trainee sailors a year will use the facility.
The system will prepare sailors for service on the Type 45 destroyers as well as the more established Type 23 frigates, Type 42 destroyers and other assault ships and carriers.
Chief of Defence Materiel Bernard Gray said: "This state-of-the-art system will greatly increase the effectiveness of surface ship warfare training.
"With its ability to replicate all the current destroyers, frigates and capital ships in the fleet, the Maritime Composite Training System provides great flexibility."