Sex act in Southampton hospital prompts student warning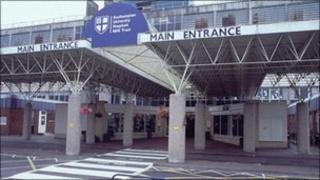 Two people were seen engaged in a sex act in a corridor at Southampton General Hospital, prompting a warning to medical students.
In an email from associate dean of medicine Dr Chris Stevens, students were told: "You are in a hospital and need to act in a professional manner."
The hospital added the incident had taken place in an academic block, not in an area where patients were treated.
CCTV is being examined to try to identify the couple.
A University of Southampton spokesman said it was "not 100% certain" that the two people involved were medical students.
"They were seen in a publicly-accessible location where medical students were timetabled in and the person who reported the incident couldn't confirm their identities," he said.