Web 'unused by 27% of BBC Radio Solent listeners'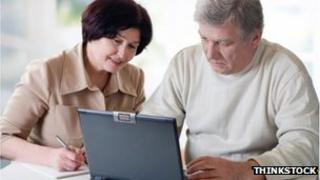 More than a quarter of BBC Radio Solent listeners in Dorset and Hampshire have never used the internet, a survey has found.
According to Radio Joint Audience Research (RAJAR), 27% of BBC Radio Solent's audience have never gone online.
The figure for the whole of the UK was higher, at 29%.
Only 9% of BBC London listeners said they had not used the internet, but in Wales that rose to 41%.
The figures come have been released as the BBC launches its Give an Hour campaign to encourage more people to get online.
When the clocks go back, the BBC is challenging people to use the extra hour to introduce someone they know to the internet.
Tackles 'isolation'
According to the Office for National Statistics, 21% of adults who do not have a home internet connection say it is beause of a lack of web skills.
Charity Carers Together in Romsey, is working to tackle the problem, offering isupport both online and in person for carers living in Hampshire.
The team of volunteers from the charity also run an internet cafe in Romsey and Southampton to help beginners use the web.
Rory Heatley, from Carers Together, said these sessions have proved popular.
"It enables people to access information quickly and easily when they need it, which is really important," he said.
"It can be used to keep in touch with friends and family all over the world by using email and VOIP services such as Skype.
"This provides a huge benefit to carers who find themselves isolated due to the 24/7 nature of caring for friends or family."
He said other sessions had involved the use of social media networks, like Facebook and Twitter, and logging on to internet banking.