Portsmouth kidney doctor allowed to practise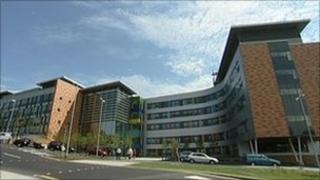 A surgeon has been allowed to continue practising after a man nearly died during an operation to donate a kidney to his father.
Kamal Abusin carried out the procedure on the man in his 30s at Portsmouth's Queen Alexandra Hospital in 2008.
A General Medical Council prosecutor recommended Mr Abusin receive a warning but not be struck off.
But a Fitness to Practise panel was satisfied his actions did not warrant a warning.
It said this could have affected his future employment prospects.
The panel said there were a number of mitigating factors, including Mr Abusin's previous good record, testimonials from colleagues and an expression of regret.
The panel added: "[We] found none of the aggravating and all of the mitigating factors to be present in your case.
Life shortened
"The panel has no doubt that this whole process has been a salutary lesson for you. It accepts that you are unlikely to repeat your mistakes."
In February the patient was awarded £6.7m damages after the operation left him with kidney failure and needing a transplant from his sister.
The GMC panel, led by Dr Ann Barker, considered allegations Mr Abusin, a consultant in renal transplant surgery, took an inappropriate course of action while removing the patient's right kidney and did not discuss the increased risks of the method with the patient.
The panel found that Mr Abusin had not been negligent in opting to remove the kidney in the manner he chose or for the way he treated the haemorrhage.
However, it did uphold the assertions the surgeon had not discussed the increased risks of the procedure with the patient, but said this did not represent a culpable failure because he had not perceived there to be any risks.
It also said he had failed to keep proper medical notes about the decision to remove the right, rather than the left kidney.
In February, the High Court heard the life expectency of the patient - a father-of-two - had been shortened by about 10 years and he had to suffer the trauma of dialysis, considerable health problems and the prospect of future deterioration with the inevitability of another transplant.
He was in his mid-30s at the time of the operation and had wanted to give his father a better quality of life in retirement.
He received more than 100 units of blood and fluid transfusions and he was in hospital for two months.