Portsmouth Cathedral memorial plan for WWII boy sailors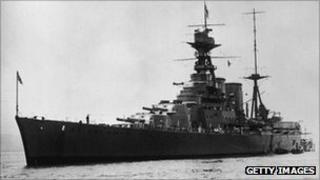 A World War II veteran who served in the navy as a boy is planning a memorial at Portsmouth Cathedral to teenagers killed in action.
Jim Reed, 89, researched the names of 500 boys to go on what is believed to be the first memorial of its kind.
Mr Reed joined up at a time when the Royal Navy was able to recruit children from the age of 15.
He said: "I've always had a feeling for the boy seamen because I know what they went through."
More than 130 of the boys died from illnesses contracted due the poor living conditions on ships and in training barracks during World War II.
'Weren't aware'
A further 71 died in a single incident when HMS Hood was sunk by German warship The Bismark in the Denmark Straits in 1941.
"The public weren't aware of what was going on. Although there was a demand boys should be taken off the ships, it didn't come into effect," said Mr Reed.
Work is under way on a plaque and book of remembrance for Portsmouth Cathedral, to be unveiled during a special service next year.
Dean of the cathedral the Very Reverend David Brindley said: "We're known as the 'Cathedral of the Sea' with lots of naval memorials, but it is important these young lads are remembered and acknowledged in the public mind."
Mr Reed is paying £8,000 towards the memorial himself while also looking for donations.