Hayling Island petition against planned Havant housing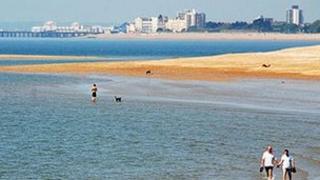 Residents in a Hampshire resort have handed in a 4,500-signature petition against a proposed affordable housing development.
The Hayling Island Residents' Association said the "ageing infrastructure" of the island could not support the planned 600 new homes.
Chairman Paul Fisher said it was "building for building's sake".
But Havant MP David Willetts said: "There is a desperate shortage of accommodation."
Havant Borough Council Planning and Built Environment chief, David Guest, said new homes are required for the "future prosperity of the borough".
The proposed development is for 160 new houses and flats between Goldring Close and Hawthorne Grove on the island, as well as two other larger greenfield estates in South Hayling.
The Save Hayling petition highlights residents' concerns of a "large-scale building development".
Mr Fisher said: "Hayling's ageing infrastructure cannot support further building on the scale proposed, particularly roads, health care, schools and policing, all of which are currently in need of major investment or are already stretched."
Mr Guest said: "It's right to say that these issues are of concern, but can be addressed and mitigated when individual planning applications are considered."
Conservative MP Mr Willetts said: "The council have 5,000 people on their housing waiting list and I see many young people in my surgery who cannot find anywhere to live in the borough."