Isle of Wight space pioneers mark Prospero launch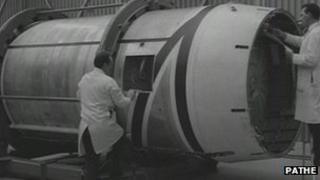 A group of space pioneers have celebrated the 40th anniversary of Britain entering the space race.
At 0409 GMT on 28 October 1971, the British Prospero satellite was launched from Woomera, Australia, on an Isle of Wight-built Black Arrow rocket.
John Bannon, from Portsmouth, was among a group of former workers from the island's rocket test site who marked the date via a video link.
He said: "We did the countdown to zero and toasted with champagne."
He was joined by former colleagues now living in the UK, Australia and Canada at 05:09 BST to mark the lift-off of the Black Arrow, an 18 tonne, 13m (43ft) long rocket.
Mr Bannon, who aged 42 at the time of the launch, worked as a produce assurance manager building and testing rockets manufactured by the British Aircraft Corporation and Marconi at the Needles Battery rocket test site on the Isle of Wight.
He said: "From the word go it was new technology, new ways of thinking, every operation we filmed so if anything went wrong we knew why, it was very exciting."
'It was tense'
He was flown out to Australia for the launch and stood about 400 yards from the launch pad for the satellite.
He said: "It was tense, I remember tension building up and then we were a little surprised because, when rockets take off, everything vanishes in a huge cloud of smoke and flames and then the rocket appears out the top of it.
"With this one the fuel was very clean you could hardly see anything coming out. It was like it was going up on nothing. In a way it was a bit of an anti-climax."
Prospero is still circling the Earth, although it was officially deactivated in 1996. The UK has not launched a satellite using its own rocket since.
"Unless it gets down to the levels where it starts to brush the atmosphere it'll just stay up there forever," he added.
University College London's Mullard Space Science Laboratory in Surrey is hoping to re-establish communications to see if it is still working.