Shot Mark Nunes and Andrew Markland 'had armour-piercing bullets'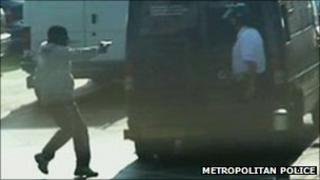 Two robbers shot dead by police marksmen were armed with armour-piercing bullets, an inquest heard.
Mark Nunes, 35, and Andrew Markland, 36, both from London, were shot as they held up a G4S van in Hampshire in 2007.
The inquest at Winchester Coroner's Court heard officers discussed arresting the pair, who were on their way to a raid on a cash van.
The jury heard the two armed robbers had not been arrested before because of a lack of evidence.
Retired Hampshire Assistant Chief Constable Steve Watts told the hearing he had given the Metropolitan Police the authority to control the operation as the pair attempted to rob a cash van outside the HSBC bank in Chandlers Ford.
He said his preferred option was to arrest both men en route once sufficient evidence had been obtained.
'Intelligence received'
Mr Watts said that deciding when to intervene was the Met's decision, and the agreed strategy was to try to make arrests prior to the commission of the offence, or at the earliest opportunity.
Mr Watts told the hearing he was first informed about a Met Police operation three days before the shootings happened.
On the morning of the shooting, police received intelligence Nunes and Markland were armed and on their way to Hampshire.
Mr Watts, who gave evidence on a videolink from Abu Dhabi, said he had not been aware the Met Police were deploying marksmen with rifles on the operation.
The jury heard how Met officers had been at several locations in Hampshire after intelligence told them a gang would rob a van in the county.
Officers had been investigating a series of armed and unarmed robberies in London and the Home Counties.
An operation, codenamed "Hurlock", had identified Nunes as a suspect, the hearing was told.
Earlier in the inquest, the jury was shown police footage of Nunes being shot as he pointed a gun at the head of a security guard.
Central Hampshire coroner Grahame Short told jurors Markland then "appeared" to pick up the gun before being shot by another marksman.
Post-mortem examinations found Nunes died from a high-velocity gunshot wound to the chest which exited through the neck and Markland died from two separate high-velocity gunshot wounds to the chest.
The inquest continues.