Portsmouth 'conman stole £750,000' from Bangladeshi community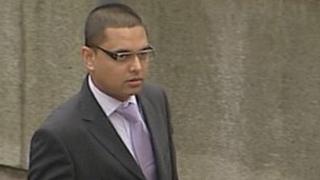 A man accused of defrauding Portsmouth's Bangladeshi community claimed he lost money to the Mafia after being kidnapped, a court heard.
Golam Rashed Chowdhury offered various ways of investing money, such as non-existent business ventures, Winchester Crown Court heard.
But he kept most of the money in the £750,000 scam that his victims paid to him, prosecutors said.
The 27-year-old, of Penhale Road, Portsmouth, denies 10 counts of fraud.
The court was told Mr Chowdhury was a prominent member of the Bangladeshi community in the city but he abused the trust and respect he received.
'Sums were loans'
The prosecution said he would offer people different ways of investing their money, including buying cheap air tickets or investing in businesses that did not actually exist.
The defendant also claimed he could invest or transfer money to Bangladesh at highly preferential rates that, in reality, were "too good to be true", jurors heard.
One victim gave him £20,000 to invest and was promised dividends of £800-a-week but after the first payment she received nothing, the court heard.
Mr Chowdhury later told her he had been kidnapped and had lost the money to the Mafia, jurors heard.
When he was arrested in June last year he told police he never promised to invest money for anyone and that the sums he received were loans.
The trial continues.