Georgina Edmonds 'brutally murdered with rolling pin'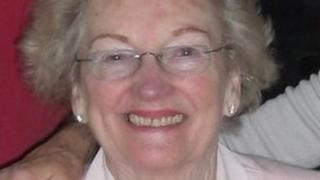 A 77-year-old woman was tortured for her Pin number before being beaten to death with her own marble rolling pin at her Hampshire home, a court heard.
Georgina Edmonds was found dead on 11 January 2008 at her cottage in Brambridge, near Eastleigh.
Mrs Edmonds' credit card was used later the same day but was rejected as the Pin was wrong, the court heard.
The prosecution claim DNA found on the handle of the rolling pin is linked to Matthew Hamlen, 33. He denies murder.
Winchester Crown Court heard that in police interviews Mr Hamlen admitted that in 2008 he had a £100-a-week cocaine habit and was under pressure to pay back drugs debts.
Police found he was nearly £6,000 in debt in January 2008, the court heard.
'Effectively tortured'
Jurors were told that Mrs Edmonds lived in the grounds of her son Harry's house and was independent, but suffered from osteoporosis and had had several hip replacements.
She was discovered in a pool of blood in the kitchen by her son and two estate workers.
Paramedics called to the scene noticed puncture wounds to her neck and shoulder and the bloodied rolling pin was found broken from its handle, jurors heard.
Prosecutor Michael Bowes QC told the court that several of Mrs Edmonds' ribs were fractured in the attack and she had been struck over the head at least once, and maybe several times.
He said: "It seems likely that she was effectively tortured to obtain the Pin for her credit card.
"The many knife wounds penetrated Georgina Edmonds' skin. Their pattern suggests they had been inflicted with some deliberation rather than a significant degree of force."
The pensioner's credit card, mobile phone and handbag were stolen and someone tried to use the card at a nearby Tesco Express cash machine at 22:38 GMT on 11 January 2008, the court heard.
Phone analysis
The prosecution alleges it was Mr Hamlen using the card and that he was captured on CCTV disguised in a hooded fluorescent jacket.
An expert on gait and posture identified the man as Mr Hamlen, it was heard.
Mr Bowes also told the jury there was a "forensic DNA link to Mr Hamlen" from the rolling pin handle.
But the court heard there was also DNA of either one or two other individuals and Mr Bowes told the jury this evidence would have to be looked at carefully.
Analysis of Mr Hamlen's mobile phone also showed him in the vicinity of Mrs Edmonds' home in Fig Tree Cottage, it was heard.
Mr Hamlen, of Hamilton Road, Eastleigh, denies murder.
The trial continues.