HMS Warrior giant tea-bag breaks world record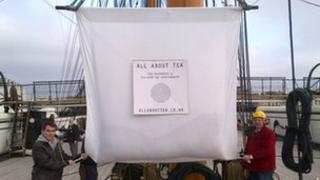 A tea company based in Portsmouth has broken the record for making the world's largest tea-bag.
All About Tea's bag - 2.4m x 2.4m in size and weighing 120kg - was unveiled on HMS Warrior in Portsmouth Harbour.
The previous record for a giant tea-bag was 68.49kg and was set by American TV programme, Attack of the Show.
Portsmouth is believed to be where tea first came into England. It was brought in by Catherine of Braganza, the wife of King Charles II.
The new record was verified by Guinness World Records.
Andrew Gadsden, founder of All About Tea, said: "Tea is typically British and I'm so proud and pleased that we've not only smashed the record, but we've brought it home where it belongs."
'Upscaled version'
It took three members of Mr Gadsden's staff three hours to pack the tea-bag, which is filled with a Portsmouth blend of English-style breakfast tea.
It took a further four hours for the bag, which is made from Portsmouth cotton, to be sewn up.
And six people were needed to lift it aboard the 1860 warship, which is now a museum.
The record attempt, as part of Guinness World Records Day on Thursday, was adjudicated by Anna Orford.
"I had to make sure it was identical to a normal tea-bag - simply an upscaled version," she said.
Other Guinness World Records Day attempts included the largest gathering of "leprechauns" - more than 300 people - in Dublin and the largest speed dating event, which included more than 800 people, in China.
Mr Gadsden said next year he would be attempting to break the record for the world's largest cup of tea.