Hampshire police seek possible witness to rape of man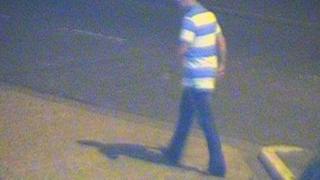 Police have released a CCTV image of a possible witness to the rape of a man on a footpath in Southampton.
The attack happened near flats off Old Redbridge Road shortly after 05:00 BST on Saturday 1 October.
Police said the potential male witness, described as white and wearing a top with either blue or green stripes, was not a suspect.
The CCTV image was taken from a camera at a Shell Garage on Millbrook Road at 05.11 BST on the day of the attack.