Victoria Nye 'took her own life' after leaving hospital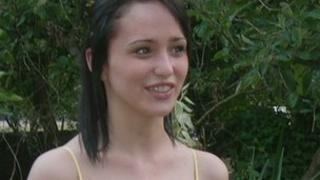 A psychiatric unit has been criticised by a coroner for "sloppy" record keeping in discharging a patient who took her own life hours later.
Victoria Nye, 22, plunged from the balcony of her 13th-storey flat shortly after leaving the Royal South Hants Hospital, Southampton.
Coroner Keith Wiseman said: "The balance of her own mind was disturbed."
The inquest heard of concerns held by her father, but a consultant said she was there voluntarily.
Miss Nye had gone to the unit after throwing kittens from her flat in the Thornhill area of Southampton.
Her father Graham explained he was aware that the animal lover would be very upset when she fully understood what she had done.
Delivering his verdict of suicide, the coroner said Miss Nye's death was a "desperately tragic end" and she was at the "extreme end of those needing professional intervention".
'Troubled girl'
The inquest heard Miss Nye, who had a history of mental illness and alcohol and substance abuse, was discharged from the hospital's Department of Psychiatry on 3 March 2010.
Although Miss Nye was described as a "very troubled girl", she had been a voluntary patient in a non-secure ward for about two weeks and was not restricted in her movements.
The hearing heard that the specialist Dr Anders Ekelund, did not believe Miss Nye was suffering from a mental illness after meeting her once, but thought she had a personality disorder.
He told the inquest he had not wanted to discharge her, but had no grounds to detain her.
Miss Nye returned to her flat drunk and was found fatally injured early the next morning after falling from her flat in Dumbleton Towers.
The coroner said Mr Ekelund had left himself open to accusations of a cover-up over the exact circumstances of what happened because his record keeping was so bad.
"The documentation to support the thought process leading to Victoria being allowed to leave hospital is sloppy and inadequate," he said.
"If he was so concerned about her going, his failure to record these matters is significantly blameworthy," he said.
An internal investigation found that there was no evidence of a comprehensive discharge plan.
Mr Wiseman said that although "all the expertise in the world could not have the knowledge of what the future had", he said it was impossible not to look at the unit's discharge procedures.
"Procedures are not optional but essential," he added.
'Great sadness'
Mr Nye said he had feared for his daughter's safety when he heard she was discharged as she could manipulate professionals over her state of health.
Giving evidence, he said: "I repeatedly stated my fears that if she was released there would almost certainly be an incident."
A statement released by Southern Health NHS Foundation Trust said: "The loss of a life of someone we have cared for is a cause for great sadness for us.
"Our aim is always to provide the best care and treatment possible, and we have been committed throughout to understanding and investigating the circumstances which unfolded at the time of Victoria's death."
Clinical services director Dr Tom Schlich added: "Clearly there are inevitably lessons that can be learned and an action plan has been put into place to improve the service."