Pantomime dame Bev Smith dies during show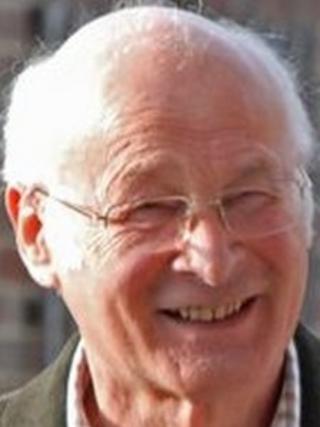 A pantomime actor has collapsed and died during a performance of Dick Whittington in Hampshire.
Bev Smith, 70, suffered a heart attack while appearing in the amateur production at Curdridge, near Winchester, on Monday.
Mr Smith was a newsreader on Associated TV and later a producer at TVS in Southampton.
His daughter Jo Griffiths said: "He was a happy, gregarious, outgoing man who always had a smile on his face."
Curdridge Amateur Dramatic Group secretary Geoff Appleby described Mr Smith as "a great friend to be with".
'Colourful character'
Mr Appleby said the married father of three from Swanmore had the role of Sarah the Cook in the pantomime at the Curdridge Reading Rooms.
"Bev was such a colourful character, he made the role his own and would often ad-lib so was able to bring in localities familiar to the audience.
"He had come off stage from his first solo song and was making his next entrance but as he climbed on to the wings of the stage he collapsed.
"Our initial reaction was that he had fainted but tragically he had suffered a massive heart attack."
Show goes on
An ambulance was called and a doctor in the audience provided first aid, but Mr Smith was pronounced dead by paramedics.
Mr Appleby added: "Up until recently he lived two doors away from me, so we used to collect the newspaper every morning
"The pantomime will continue as scheduled. His family have encouraged us to do this as they felt it is what Bev would have wanted."
Lee Peck, who worked with Mr Smith at ITV Meridian's former TVS studios in Southampton, described him as a "larger-than-life character".
Mr Smith, who also set up his own production company, leaves his wife Pat, three children and two grandchildren.