Jury sees Georgina Edmonds rolling pin murder scene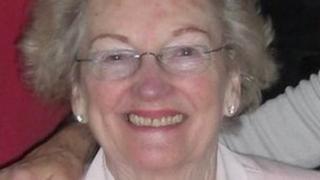 Jurors in the trial of a man accused of murdering pensioner Georgina Edmonds have visited the place in Hampshire where she was killed.
The 77-year-old was found beaten to death in her home in Brambridge, near Eastleigh, in January 2008.
Electrician Matthew Hamlen, 33, from Eastleigh, denies her murder.
Jurors visited Mrs Edmonds' cottage where her son discovered her body in her kitchen. She had been stabbed and beaten to death with a rolling pin.
The jury made its way along the nearby towpath where her mobile phone was discovered a few weeks after her death.
Jurors also went to a cashpoint in Eastleigh, where a man wearing a fluorescent jacket was captured on CCTV allegedly trying to withdraw money with Mrs Edmonds' cash card, and to The Crescent, where Mr Hamlen lived at the time of the killing.
Earlier in the trial, jurors heard Mrs Edmonds son, Harry, describe having a sense of "foreboding" as he arrived at his mother's cottage.
After being unable to get an answer, he decided to climb through a window. He then found his mother's body lying in a pool of blood.
Jurors previously heard that Mrs Edmonds was stabbed several times with a knife by her killer, who tortured her to force her to reveal her bank card pin number.
She was also hit over the head with a marble rolling pin from the kitchen where her body was found.
The prosecution alleges Mr Hamlen attempted to use the card and was captured on CCTV wearing a hooded fluorescent jacket.
The trial continues.