Lymington Cricket Club escapes eviction over six-hit danger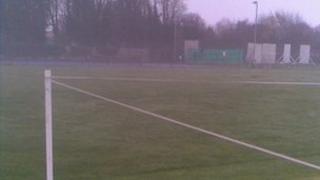 A Hampshire cricket club threatened with eviction because of flying balls potentially hitting nearby tennis players has been temporarily saved.
Lymington town council had made the recommendation because of "overriding' safety concerns" of balls being hit into the next-door tennis club.
On Wednesday night, the council, which owns the ground, agreed to drop the plans and hold a consultation.
Lymington Cricket Club has been playing at the sports ground for 175 years.
The council, cricket club and tennis club will now hold talks to decide on the best way to protect the tennis courts from flying balls, and netting will also be put up before next season begins.
It has not yet been decided who will pay for the netting but Anna Rostand, mayor of Lymington, said she hoped both the council and the club would contribute.
Nobody injured
Richard Truscott, vice president of the club, said: "There certainly is a problem because sixes have gone into the tennis court and we can understand that, as they have no doubt for all the years we've been up there.
"We're very, very relieved nobody's been injured and we believe there are solutions to the problem.
"We're going to work with the council and the tennis players to come up with a solution, which we certainly have to do for the short term - whatever the medium to long-term effect is, whether in fact we are moved."
The council had proposed to order the club to move its first and second teams to another ground at Woodside Gardens, where the club's third and fourth teams currently play.
But the club said it would take many years, and it would cost too much, to bring any other ground up to the required standard so that it could be accredited for the Division One of the Southern Electric Premier Cricket League.
Ms Rostand said: "We hadn't realised how sensitive the cricketers were about their cricket pitch.
"The whole thing came about the fact that cricket balls were flying around and landing in the tennis courts and there was a safety problem - there is a safety problem, and I think the cricket club are aware of that.
"So we've got to do something about netting for the next season before they can play, to protect the people who are playing tennis.
"Then we'll just take it step by step as to how we proceed."