Basingstoke music business 'rises from ashes' twice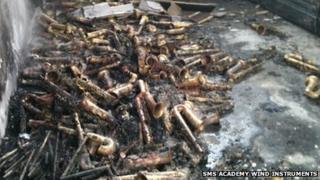 The owner of a Hampshire business which lost all its stock in a fire for the second time says he's determined to "rise from the ashes" once more.
SMS Academy Wind Instruments had originally stored all its instruments at a battery recycling plant in Lasham which burnt down three months ago.
Having re-stocked, owner Robbie Fraser, 42, moved the business, which supplies to students across the UK and Europe, to a unit in Basingstoke but a blaze there on Thursday destroyed his Christmas stock.
Mr Fraser said: "It's typical, just as I woke up thinking 'the business is healthy, isn't life sweet', I'm confronted with yet more bad luck.
"It's a nightmare but I'm expecting it all turn out alright - I have no option but to remain upbeat about the situation."
'Worst time'
About half of a 65m (213ft) by 75m by (246ft) building in Bessemer Road, Basingstoke, was destroyed in the fire.
It spread to several nearby business units, including SMS Academy Wind Instruments, and about 100 firefighters were called to tackle the incident.
"Both fires came at the two worst possible times of the year," Mr Fraser said.
"The last one came right at the beginning of the academic rush and now we've been hit in the busy lead-up to Christmas."
In the Lasham fire, Mr Fraser, who is a musician and can play 22 instruments, said he was "out of pocket" to the tune of about £20,000.
"I have to take that on the chin," he said.
So far, he believes the total loss of stock in the Basingstoke fire appears to be in the region of £100,000.
He said: "Luckily, I import instruments from China and have a shipment of flutes, clarinets, alto saxophones, trumpets and cornets due in next week.
"Although we won't be fully stocked, we will be able to carry on trading."
He added: "I'm a musician above everything else and have a passion for getting young people playing instruments.
"I feel it's my duty to hit the floor running and rise from the ashes."