Puffin found at hospital sex clinic in Winchester dies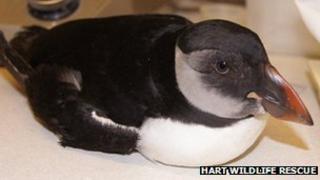 A lost puffin found at a sexual health clinic in Winchester has died.
The male juvenile was found four days ago at Winchester's Royal Hampshire County Hospital cowering at the bottom of a flight of steps.
Jackie Grey of Hart Wildlife Rescue centre said: "Everyone is naturally very upset as he appeared to be doing so well."
It is thought the bird had been blown off course from its first winter migration to the Bay of Biscay.
Mrs Grey said: "I guess it is fair to assume that something must have been wrong with him to cause him to come down in Winchester in the first place."
RSPCA staff picked up the young puffin on Wednesday and described it as "hungry and exhausted".
They transferred him to the Hart Wildlife Rescue centre near Alton.