Southampton Bargate shopkeepers criticise ice rink location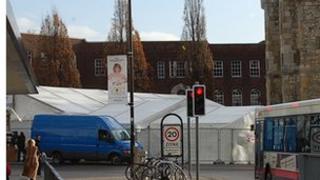 Businesses beside a temporary ice rink in Southampton city centre say they are losing valuable Christmas trade because of its positioning.
Shopkeepers at the Bargate claim the marquee-covered rink prevents people from seeing their shop fronts.
Prithi Bhakar said: "It is an absolute disaster. People can't see us and they just walk past."
The operators said they had opted for a marquee after a council-run open ice rink lost money in 2008.
Paul Lewis, of Southern Market Traders Co-operative who set up the rink for the pre-Christmas and new year period, said: "Every time it snowed and rained, no-one was allowed on it. We put the top on it to make the difference."
He admitted some of the temporary Christmas shops were not trading when council planning permission was received and a consultation carried out.
'Positive impact'
This is the first year a rink has been placed in the Bargate shopping area, rather than in front of Southampton Guildhall where a council-run rink suffered from low numbers.
"People do like to blame something that's new," said Mr Lewis. He said he would investigate if the marquee side could be adjusted to improve views of the shops.
Mr Bhakar, who owns the Movement Clothing shop, said: "It has killed this part of the Bargate."
He added his takings were half what he would have expected for early December.
A council spokesman said the relevant planning permissions had been issued.
"The feedback we've had from the overwhelming majority of businesses is that it has had a positive impact on the area," he added.