Georgina Edmonds murder jury hears 'secret tape' of accused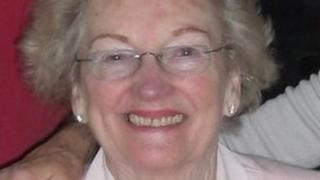 Jurors in the trial of a man accused of murdering a 77-year-old woman have heard a conversation recorded secretly while he was in custody.
The prosecution says the tape shows Matthew Hamlen, 33, from Bishopstoke, Eastleigh, trying to establish an alibi for the day of the murder.
Georgina Edmonds was found beaten to death in her home in Brambridge, near Eastleigh, Hampshire, in January 2008.
Mr Hamlen, an electrician, denies her murder.
'Off my head'
Winchester Crown Court was played a taped recording of a conversation between Mr Hamlen and his mother Linda Manning, while he was in police custody after being arrested for Mrs Edmonds' murder in July last year.
Mr Hamlen told his mother he might have been at a friend's party on the day of the murder.
He said his friend Sarah Wrigley had kept a diary showing he was there, but he could not remember the day so had not mentioned it to police.
The jury then heard his mother whisper, "I can speak to Sarah".
Mr Hamlen said: "She said I was there, it would have been one of her parties, but I can't remember it. I was off my head all the time."
Miss Manning said: "Yeah, but if she can give them the dates that you were there?"
Mr Hamlen replied "yeah" and his mother agreed to go and see Miss Wrigley.
Pool of blood
The court then heard evidence from Miss Wrigley who said she had not known Mr Hamlen at the time of the murder and did not keep a diary.
She said she had been visited by Miss Manning, but that she had never been asked to present a false alibi.
Earlier in the trial, jurors heard Mrs Edmonds son, Harry, describe having a sense of "foreboding" as he arrived at his mother's cottage.
After being unable to get an answer, he decided to climb through a window. He then found his mother's body lying in a pool of blood.
Jurors previously heard that Mrs Edmonds was stabbed several times with a knife by her killer, who tortured her to force her to reveal her bank card Pin number.
She was also hit over the head with a marble rolling pin from the kitchen where her body was found.
The prosecution alleges Mr Hamlen attempted to use the card and was captured on CCTV wearing a hooded fluorescent jacket.
The trial continues.