Pretty Time Shipping found guilty of palm oil spillage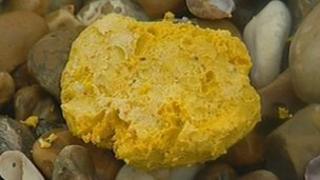 A shipping company has been found guilty of causing palm oil to wash up on shores in Hampshire and West Sussex.
Pretty Time Shipping, based in Singapore, was fined £20,000 for illegally dumping the substance.
Beaches at Hayling Island and The Witterings were closed after yellow waxy lumps were found on 11 January.
Southampton Magistrates' Court heard tests showed the lumps were linked to samples taken on the company's tanker, Pretty Time.
An investigation by the Maritime and Coastguard Agency (MCA) discovered the Panamanian-registered tanker had off-loaded a cargo of palm oil while anchored off the Isle of Wight.
Capt Andrew Phillips, enforcement officer for the MCA, said: "It sends out a clear message to the shipping industry to make sure their procedures and practises are in place to make sure this sort of think doesn't happen.
"In this case, the pollutant was fairly benign and there was no major impact on the environment, however there was the shock value of this material turning up on the beach."
In a joint statement, Pretty Time Shipping and its owner Parakou Shipmanagement said they accepted the verdict.
"Both companies have a previously unblemished safety and environmental record," the statement said.
"We would like to move on from this incident and again stress that our group operates a zero tolerance towards environmental pollution."