Thames Water ordered to pay over £61k for sewage leak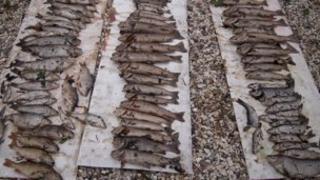 A water company has been ordered to pay over £61,000 for releasing sewage into two streams in Hampshire and Berkshire.
Up to 22,000 fish were killed in Silchester Brook, Hampshire, and Foudry Brook, Berkshire, as a result of the contamination in July last year.
The incident has been described as "catastrophic" by the Environment Agency which dealt with the clean-up.
Thames Water has apologised for what it said was "a deeply regrettable incident".
'Irreplaceable' fish
The water company was fined £30,000 and ordered to pay another £31,049 in costs at Winchester Crown Court.
A spokesperson for Thames Water said: "This was a deeply regrettable incident that had serious consequences on the environment and for that we are very sorry.
"Our focus now is working with the Environment Agency to restock the fish in the brook."
The Environment Agency said it estimated that between 7,500 and 22,000 fish, including chub, brown trout, perch, pike, roach, tench, bullhead and loach were killed following the incident on 21 July 2010.
It said many of the larger specimens were "irreplaceable".