Fire at Winchester's Royal Hampshire County Hospital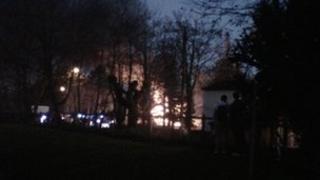 More than 50 people were evacuated from Winchester's Royal Hampshire County Hospital after a large fire broke out.
People in the accident and emergency and intensive care units, as well as some patients undergoing surgery, were moved to safe areas of the hospital.
A&E has been closed and is not likely to reopen until Saturday with emergencies diverted to Southampton and Basingstoke hospitals.
About 100 firefighters fought the blaze, which is now under control.
No-one is thought to have been injured in the fire, which broke out in a building housing an magnetic resonance imaging (MRI) scanner at about 16:00 GMT.
Hampshire Fire and Rescue's Dan Tasker said: "The MRI section was well alight and the fire was threatening to spread to the main hospital building."
'Fantastic teamwork'
He described the fire as "very unusual" because of the strong magnetic field within the scanner which created added dangers for firefighters.
The hospital followed its major incident plan and moved patients including those being treated in the intensive care unit.
Dr Chris Gordon, chief executive of Winchester and Eastleigh NHS Trust said: "We had a number of patients in intensive care who were transferred to another clinical area with all the necessary equipment and they are being safely looked after.
"It's a really difficult time and we've had a fantastic teamwork response to this crisis."
Police advised motorists to avoid the area and Romsey Road, a main route in and out of the city, was closed causing traffic gridlock. Road closures are likely to remain in place overnight.
Eyewitnesses reported seeing flames and smoke around the hospital grounds.
Dani Burnett from Eastleigh was being examined in a cubicle when she was told the A&E department was being evacuated.
'Acrid back smoke'
"You could then smell the foggy smoke. We were escorted through A&E and the room was thick black smoke making it hard to see! We finally got out and looked up and the building was covered with flames," she said.
Michael Arnold, who was in the MRI unit when the fire began, reported seeing "a pall of thick smoke".
He said: "Staff were quite brilliant in evacuating the public from the building."
Ade Jupe, from Romsey, said: "We were on our way back from work when our car was engulfed in acrid black smoke and we saw large flames fanning from what appeared to be a boiler-house."
Phil Golding, who works as a nearby garden centre said: "The fire spread and flames started jumping up out the building. When the fire brigade got here they got it under control pretty quickly."