Service held for Mellersh children found dead in Turkey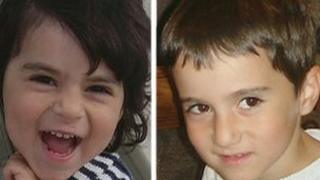 A memorial service for two children found dead with their mother in Turkey has taken place in Hampshire.
The bodies of Yaanis and Mira Mellersh, aged eight and six, and their mother Elke were discovered in western Turkey last month.
All three were buried in Tunceli in eastern Turkey, the former home village of their 45-year-old mother.
The service was held in Minstead, near Lyndhurst, where their father Justin Mellersh, 46, had hoped to bury them.
The children had been brought up in the New Forest village, which is home to their grandparents, before moving to Germany with their mother and father.
'Wonderful kids'
Mr Mellersh had legal custody of the children, who went missing with their mother from Hepstedt, near Bremen in Germany, in February 2010.
He said: "It is the worst thing that can ever happen to you.
"They were wonderful kids, they were creative, they were happy and kind. I miss them very much."
At the time of the children's deaths, Mr Mellersh said he believed their mother had killed them and taken her own life but that he did not blame her because she "suffered a debilitating mental illness with paranoid delusions".
Despite him flying to Turkey, the bodies of the two children were handed to Mrs Mellersh's sister Gulnur by the local prosecutor in Soke, the small Aegean town where they died.
Mr Mellersh, who said he was refused access to the bodies in Turkey, said he was looking for an apology from the Turkish authorities.
He said: "I am working with the Foreign Office, their mother killed them and their bodies were taken away before I got the chance to see them.
"It was always assumed by the authorities that the children would be OK because they were with their mother."
Reports from Turkey's press suggest they died from carbon monoxide poisoning from a heater.
The doors and windows of their house in western Turkey had been taped up and a note had been left on the door by their mother, stating "Caution Toxic".