Wildern School 'safe' following chlorine gas leak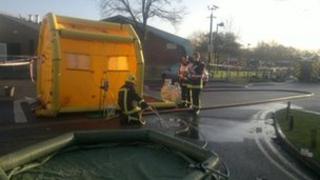 A Hampshire secondary school which was closed after a chlorine gas leak from its swimming pool is now "safe", according to its assistant headteacher.
Wildern School in Hedge End was evacuated on Friday after a leak was discovered in a chlorine pump.
Although the school's community-use pool remains closed until the pump is replaced, its leisure centre and arts facility have now reopened.
The 2,000-pupil school will reopen on Monday.
A cordon had been placed around the school while safety checks were carried out. This has now been removed.
Assistant head teacher Graham Simpson said: "The area has been cleaned and is perfectly safe."
Mr Simpson said the school's leisure centre manager spotted the leak first thing and alerted the fire brigade.
"The leak from the chlorine pump reacted with some other chemicals and created a chlorine gas," he said.
The school has a 25m, (82ft) four-lane swimming pool and learner pool which is normally open to the public out of school hours. It is expected to reopen on Sunday.