Isle of Wight blaze church 'saved by community spirit'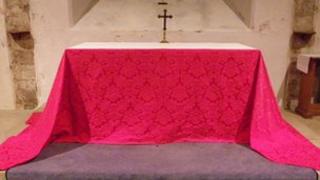 A church on the Isle of Wight has been "saved by community spirit" following a suspected arson attack, according to the vicar.
The altar at St Mary the Virgin church in Carisbrooke was found on fire by parishioners on 27 November. Two crucifixes were missing.
Police recovered one of the crucifixes and a clean-up involving more than 70 local people has since taken place.
A thank you service to those involved was due to be held on Sunday.
'Absolutely devastating'
Reverend Marcus Bagg said: "It's getting to a stage now where you can't even tell the church has been damaged and we've made a temporary altar - it really has been saved by community spirit."
The altar, along with all its furnishings, a choir-bench and two chairs were lost in the blaze.
"It was absolutely devastating for us, in fact a number of our parishioners were in tears on the evening of the fire," said Mr Bagg.
"The church still needs to be professionally cleaned and the missing silverware and altar replaced."
It is estimated this will cost in the region of £100,000.
Last month five local men and a teenager, aged between 15 and 28, were arrested on suspicion of arson and theft in connection with the incident.