Portsmouth v Southampton police gear up for Sunday derby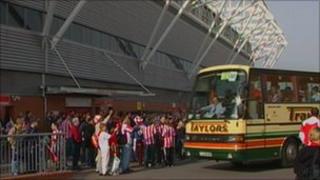 About 250 officers will be on duty on Sunday as local Championship rivals Portsmouth and Southampton face each other in the league.
Southampton fans will only be allowed to travel to the match in a police-escorted "coach bubble" in a bid to keep supporters apart.
Five roads around Fratton Park will also be shut with diversions set up.
Twelve people were jailed following violence in Southampton when the teams last met in February 2010.
The coach bubble tactic involves away fans having to buy joint match and coach tickets.
The same procedure will be repeated at the reverse fixture at Southampton's St Mary's stadium next year.
'Unusual step'
About 60 alcohol-free coaches will leave for Fratton Park in Portsmouth from three pick-up points - St Mary's stadium, Winchester and Bursledon.
Supt Rick Burrows said: "We want this to be a great match for everyone to enjoy.
"We know that some fans have been frustrated by the condition of coach travel... and I would like to thank supporters for their understanding.
"It is an unusual step to impose, but one we feel is necessary to provide us with the greatest chance of mitigating the risk of violence or trouble between the two sets of fans."
Portsmouth fans are being asked to get to Fratton Park early as there will be some restrictions to cope with the arrival of the Southampton coaches.
The following roads will be closed between 1000 and 1600 GMT: Rodney Road, Anson Road, Specks Lane, Alverstone Road and Vernon Avenue.
Police said online rumours that Eastern Road would also be closed were incorrect.