Alton arson attack 'part of vendetta'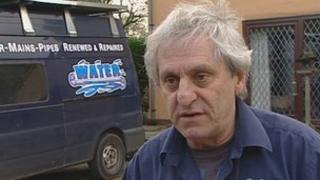 A Hampshire man believes an arson attack at one of his employee's homes is part of a vendetta against him.
Jock Trodden, from Liss, has offered a £10,000 reward for information leading to the conviction of the culprits.
A van was set alight in a driveway in Alton at about 00:30 GMT on Tuesday and the fire engulfed the front of a house with a family of eight inside.
Hampshire Constabulary said it knew of a number of arson attacks in the area and investigations were continuing.
Vehicles belonging to Mr Trodden's company JTS Civil Engineers have been set alight on four previous occasions.
In addition, arsonists were caught on CCTV pouring petrol through the front door of his house in August 2009 before setting it alight.
"It's ruining my company and the prospect of jobs for my employees," Mr Trodden said.
"I'm hoping that someone, somewhere, will come forward and put an end to this madness before someone is killed.
'Screaming and shouting'
"Personally I have no fear of these people and I'm not going to lie down and have them trample over me."
Mr Trodden said he had spent £200,000 replacing the vehicles over the past 18 months.
The latest van fire in Geale's Crescent spread to a car on David Cashman's driveway which spread to his house.
He was in bed when he heard an explosion. His wife and six children were also inside at the time.
He added: "The younger ones were horrific, just screaming and shouting, (there were) flames everywhere.
"They were petrified. Terrified in fact."
Det Con Iain Turner, from Hampshire Constabulary, said: "Everyone managed to leave the property but this fire could have ended as a dreadful tragedy.
"A family has lost its home just before Christmas and is dealing with the trauma of what has happened.
"I'd appeal to anyone who knows who is responsible to get in touch."