Hotelier criticises Eastleigh council plans for Rose Bowl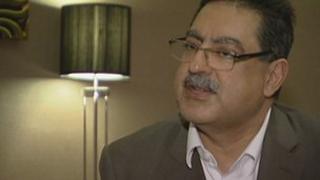 Plans for a Hampshire council to take over the Rose Bowl cricket stadium and build a new hotel have been criticised by a local businessman.
Eastleigh Borough Council wants to buy the stadium for £6.5m to rent back to Hampshire County Cricket Club and spend £32m on the hotel.
Moez Janmohamed, who operates the neighbouring Holiday Inn hotel, called the idea "improper and unfair".
The Liberal Democrat-run council says it would benefit the local economy.
Mr Janmohamed said: "My business is very well established. We have no issues with the original planning proposal by the Rose Bowl when the council had no financial involvement.
"The situation changed for us when the council, in its wisdom, started wanting to become a hotelier."
He said it was "imprudent" at a time when councils were facing cuts and said he was considering a restarting a legal challenge which a consortium of local hoteliers lost in 2010.
The Rose Bowl made a loss of nearly £900,000 last year.
The plan includes a four-star hotel with 175 beds, along with a conference centre and 18-hole championship golf course. It is intended to make the Rose Bowl more profitable and attractive to international and test match cricket events.
The council declined to comment following Mr Janmohamed's criticisms. Speaking on Friday, after the announcement of the plans to take over the running of the stadium, council leader Keith House said: "It fits alongside other investments we've made as a council.
"We've acquired sites, shopping centres, office blocks and hotels where there is a strong rental income that we can use to protect our services from public sector cuts and produce more of an income to keep council tax down."
The council said the plan would create the equivalent of 500 full time jobs.
However Godfrey Olsen, leader of the minority Conservative group, said: "It is an enormous commitment and I would suggest it is outside of the function of local government, to fund, build and operate a hotel."
The revised plan will be discussed by the full council on Thursday. If approved, work on the hotel could start early next year. Building work is expected to take 18 months.